YBP Home > Editorial Art > Watercolors
Watercolors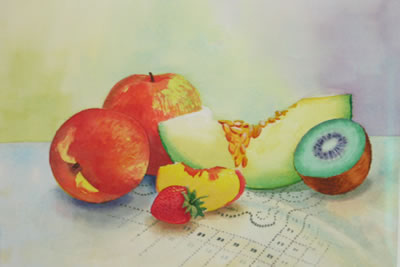 Still Life: Mixed Fruit 1
Client:
Self Promotion
This watercolor is a still life using a photograph as "scrap". The purpose is to improve Ms. Lewis' skills in this medium and it is not for any commercial purposes.
This is more realistic style that makes a good exercise, but not as interesting as a watercolor in my opinion. It is helpful, though, to be able to create a realistic likeness so that one understands how to deviate from that approach. Painting all the details of the lace makes it too busy and detracts from the focal point. A solution is to create a vignette, giving the viewer only an impression of the tablecloth.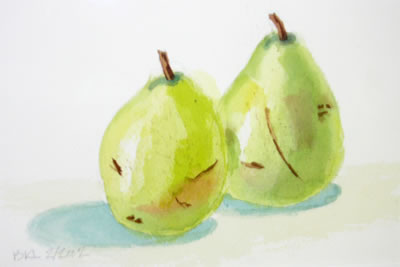 Still Life: Pears
Client:
Self Promotion
This still life was made up without any real pears as props. One mistake that gives that away: the shadows are on the same side as the highlights - oops. Again, it is an exercise in painting shapes to make them 3 dimensional and create a loose, fluid style.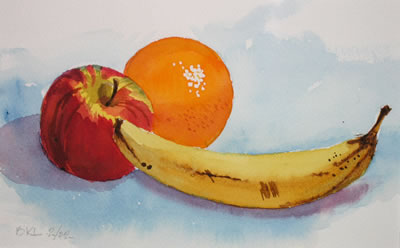 Still Life: Mixed Fruit 2
Client:
Self Promotion
Fruit can be an easy subject matter to paint because of its simple shapes. This was created with actual fruit as the props, but the goal was to not make it too realistic.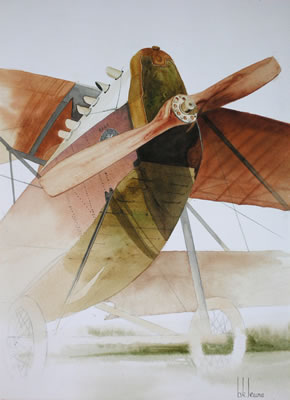 Bi-Plane
Client:
Self Promotion
This watercolor is on a full sheet and was created from a "scrap" photograph as a class assignment at Art Center College of Design. It is one of the first watercolors Ms. Lewis painted.