YBP Home > Portfolio > Web Site Development > Internet
Internet Web Sites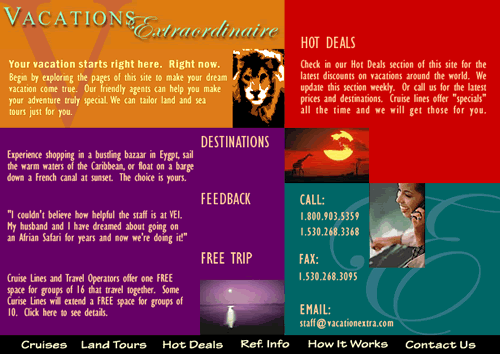 Travel Web Site
Client:
Ventures Extraordinaire
Goals:
Content: List travel itinerary for cruises and land travel
Graphics: Create a sense of fun and adventure, emphasizing the exotic nature of the tours & cruises.
User Interface: Make it easy for the customer to find which continent, cruise, ship, and date they wanted.
Achievements:
This site promoted a travel agency's unique tours to Africa, Asia, Australia, and Europe. The cruises and land tours were entered into Quark so that the same information could be used for the printed catalog as well as the Web site. The navigation separated the land tours from the cruises and further separated those categories by continents. We worked with this client until eventually she was bought out by larger travel agency. The timng was good, because travel sites have become a thing of the past in most cases.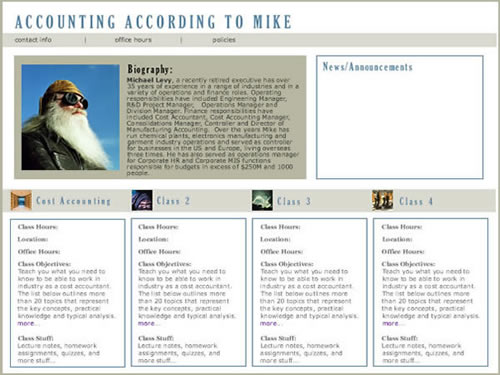 Faculty Web Site
Client:
M. Levy, San Jose State U. Class Site
Goals:
Provide a Web site for students to access information about each class taught by Mr. Levy
The Web site should appeal to the age group for which it was targeted.
Achievements:
This site is a prototype site for an instructor at San Jose State University to provide course notes, assignments, and quizzes for his accounting classes. We purposely make the the site irreverent to appeal to the age group he was teaching. Mr. Levy has a wonderful sense of humor and didn't object to our "portrait" of him which, of course, is not at all representational. (Mr. Levy is a distinguished executive within Silicon Valley.) Unfortunately, San Jose University had to reduce its teaching staff which effected Mr. Levy and the site was never put into production.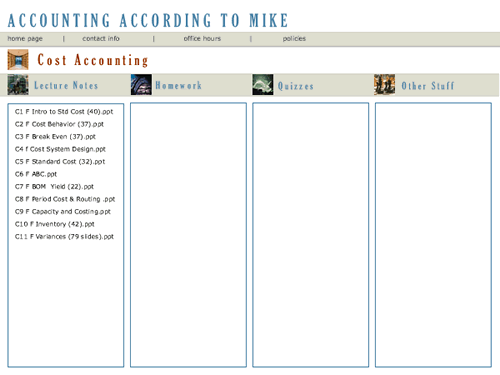 Faculty Web Site Content Pages
Each class has its own content pages for lecture notes, class assignments, quizzes, and miscellaneous information.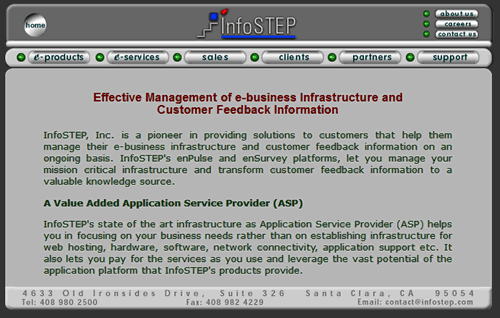 Software Development Consulting Company
Client:
InfoStep
Goals:
Identify and qualify potential customers
Market primary service as a Value Added Application Service Provider
Show existing customers how to expand product capabilities of previously purchased products.
Share roadmap for company plans.
Achievements:
YBP has done a number of projects for InfoStep mostly in application design, but also the User Experience for their Web site and their customers. YBP created innovative visual dashboards for measuring data integration, Quality Assurance, and server status among others. InfoStep's Web site reflected some of their dashboard applications which utilized 3D lights and buttons. In 2011, InfoStep was acquired by Saama Technologies.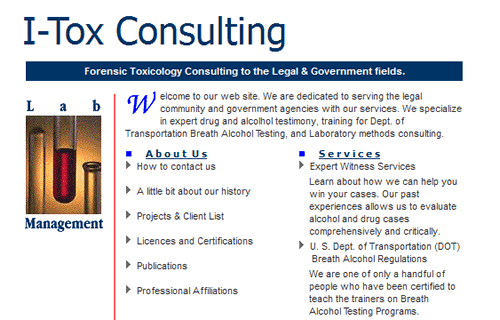 Forensic Toxicology Consulting Co.
Client:
iTox Consulting
Goals:
Content: Summarize services and highlight Ms. Weingarten's 25 years experience in this field.
Graphics: Create a clean professional appearance.
User Interface: Provide users with a quick understanding of the site's content.

Achievements:
This site introduced a new forensic toxicology consulting company for Department of Transportation (DOT) Breath Alcohol testing and provided expert witness services. The animated GIF on the left highlights the three main services iTox provided: Expert Testimony, Lab Management, and DOT training. YBP summarized the content of the site on the front page so viewers could select the area of most interest to them. At YBP's recommendation, we created a discussion forum, "Ask the Expert", where potential clients could query iTox about subjects concerning DOT testing, expert witness testimony, and other toxicology questions.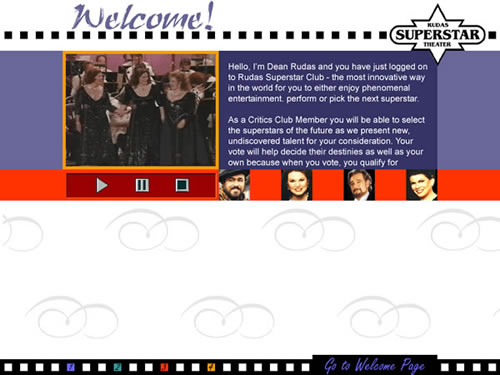 Multimedia Webcast of the 3 Tenors Concert
Client:
Rudas Organization
Goals:
Build a multimedia streaming video Web site to showcase the tour by the 3 Tenors
Advertise the new star competition.
Create a database for fans to pre-register for the Web cast.
Achievements:
Luciano Pavarotti, Placido Domingo, and Jose Carros toured the United States during 2000. YBP developed the original Rudas Superstar Theater site and provided audio and video clips of the program.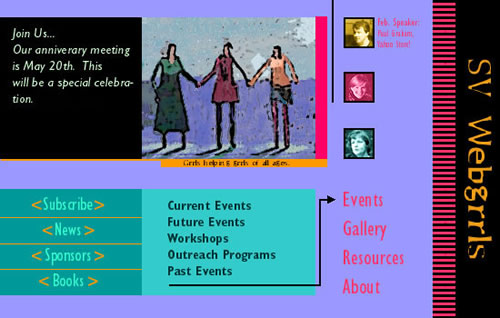 Non-profit Organization
Client:
Silicon Valley Webgrrls
Goals:
Set a standard of Web excellence
Maintain site easily by volunteer programmers

Achievements:
The Silicon Valley Webgrrls was part of an international organization of over 20,000 women whose profession is connected to the Internet, www, or multimedia. The challenge for this site was that it needed to "state of the art" for its day and yet still be easy to maintain and expand as this organization's needs grew. Ms. Lewis headed up the SVW Web site committee for 3 years. She used her design background to create the site graphics, and user interface. However, much of the credit for programming and maintaining the site goes to the group of about 30 volunteers who participated in the site. The group was divided into functional groups such as content, design, and programming.
The site had a great deal of functionality given its compact size. The black rectangle on the far left had scrolling news content about events coming up and links to past events or featured articles. If you clicked on a picture of a guest speaker (pictures on the right), the logo area (graphic of women holding hands to form a "W") became a slide show with highlights of the lecture. Rolling over the main navigation below the small pictures brought up the sub topics so a viewer could get directly to a section of interest.
Most of this site was created, tested, and put in production within a one month time frame to coincide with the 2nd anniversary of the local chapter in May, 1999. The key committee members stayed very active in maintaining and improving this site over the years. It was a truly inspiring group of women with which to work.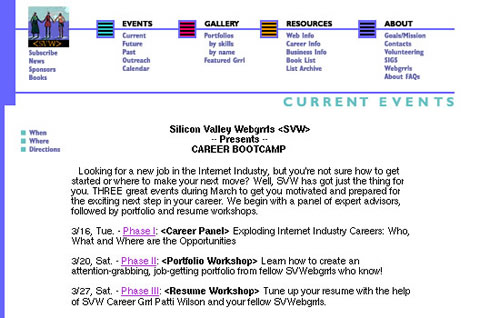 Non-profit Organization
Client:
Silicon Valley Webgrrls
Achievements:
Because the home page had a "magazine" design style, the content pages had to bring in elements of the design and still leave white space for the content. The site was not very large, which gave us the opportunity to leave the entire navigation in the header.